Living with the Sony QX-100
Sony is always creating innovative technology. You might say that I tend to be a big fan of their products even when most people don't get it. Take for example the MD or MiniDisc.
Back in the 90's when CD's were new and phasing out the cassette tape, having access to recordable and rewriteable random access digital quality audio was possible but expensive so Sony came up with this brilliant idea of storing highly compressed audio onto miniature discs. Sony claimed the compression scheme threw out only frequencies you couldn't hear, but purists frowned on it saying the algorithm to cram all that data on the optical media sacrificed the quality of the music. As a musician with little money, the ability to record my music with better than audio cassette quality was fantastic for me. Although today when I listen to those old recordings, I do kind of wish they weren't so compressed lol.
Before we get further, let's see what kind of picture quality the QX-100 can capture. Unless otherwise mentioned, I took all the photos and videos in this blog.
Setting the camera on the table and taking pix remotely is great for candids
Here's a video I shot at my shop of a model being photographed in HD (1920x1080 @30 fps). The video was edited with Final Cut Pro X and two filters were applied for effect (Film Grain & Vignetting)
The dolly shots in the "model" video were created using the Pico Flex Dolly from Photography and Cinema.
Pico Flex Dolly
The QX-100 is a Wi-Fi camera that confuses people. People just don't get it. They ask, "Why do we need a "stripped down camera" that requires a wireless connection to a phone to use it?"
First I need to get a few misconceptions out of the way. While this is a Wi-Fi camera, you do NOT need an internet connection to use it and "No", I'm not giving you some half assed response that you can still use it with limited functionality without an internet connection. What I'm saying is that, if you don't understand how you can still use a computer on a network without being connected to the internet, you need to educate yourself a little more about what it means to have a Wi-Fi connection. A Wi-Fi connection is simply a wireless connection between atleast two devices. It could be between a computer and a hotspot or a computer and a wireless printer or it can be between a phone and a camera. Interestingly enough when I encounter people on the street who see me with the QX-100, they always assume it's connecting through Bluetooth. What that means is that if I said, "Yes it's a bluetooth camera", they would likely understand it, but not if I said "It's a Wi-Fi camera". So after reading this article, you can thank me for educating you a little bit more than the average Joe.
Ok let's try this again. The camera has a Wi-Fi antennae built in. When you turn it on, it sends out a signal to any nearby Wi-Fi device that it can be connected to it. My QX-100 shows "DIRECT-J3Q0:DSC-QX100". So on your iOS or Android phone, you go to the Settings, click Wi-Fi and choose the connection starting with "DIRECT". The first time you connect, you need a password and that is printed on the inside of the battery cover. You only have to do this once, then your phone memorizes it.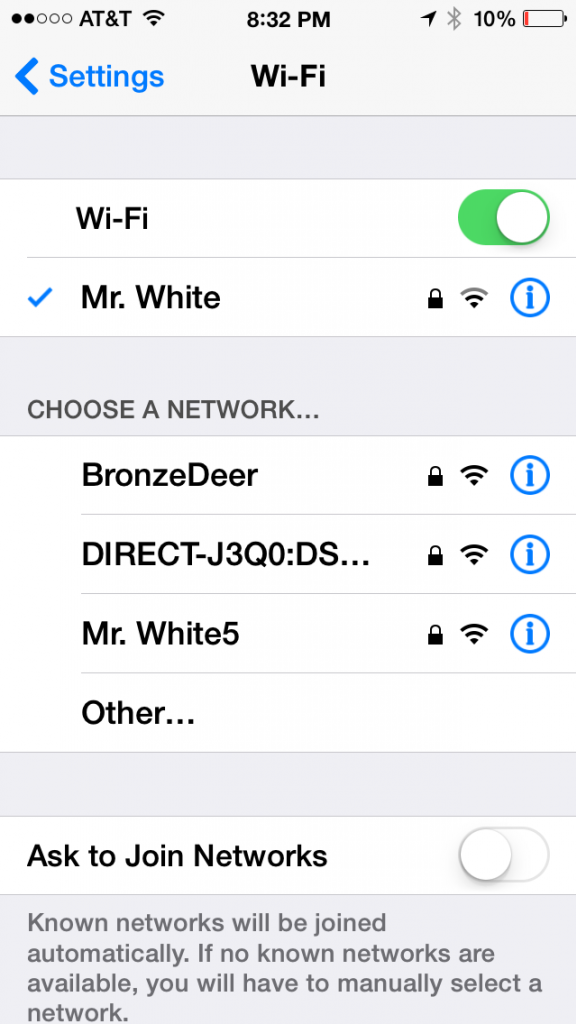 The Wi-Fi network Mr. White is currently connected, so just select the "DIRECT-J3Q0: DS.."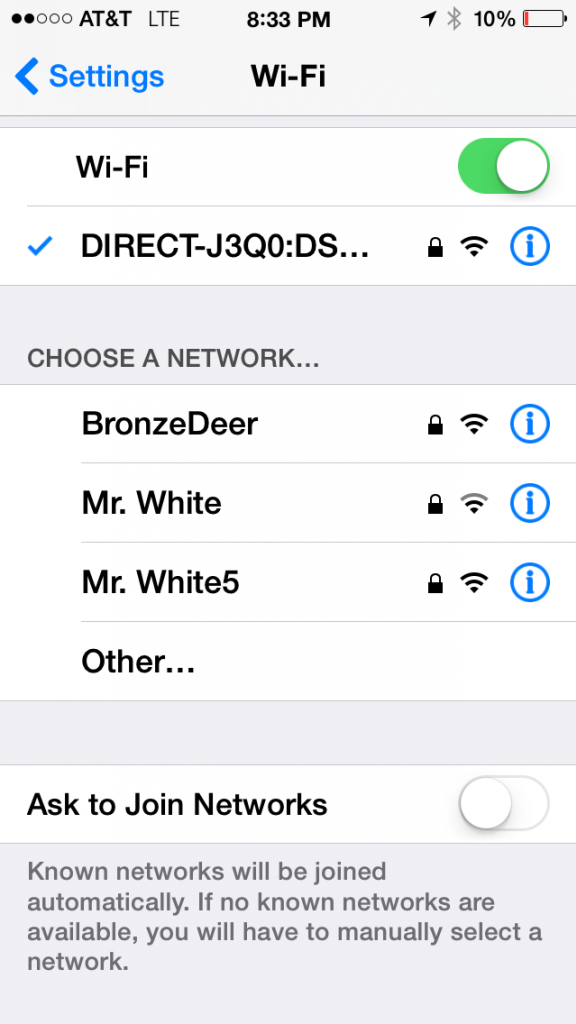 Next you open the free Sony PlayMemories Mobile app, and it will hopefully find the QX-100 and you'll see a live image. Assuming everything goes right, you'll be ready to snap beautiful pictures or videos. However, sometimes it will not be able to connect for various reasons. Sometimes you just have to wait and retry. I find that turning off the camera and turning it on again, then reconnecting on the phone will usually take care of the problems. Other times it just can't connect. One important note, if you set up your spouse's phone as a backup capturing device, beware that if that phone is nearby, it too can be trying to access your QX-100 and while multiple phones could be connecting to it, the Sony software only allows one phone to be connected at any time.
I've moved the Settings app and Sony PlayMemories Mobile app to be side by side at the top left of my menu screen for fast access.
Once the Sony app is opened you will see this, assuming the phone is still in "portrait" mode.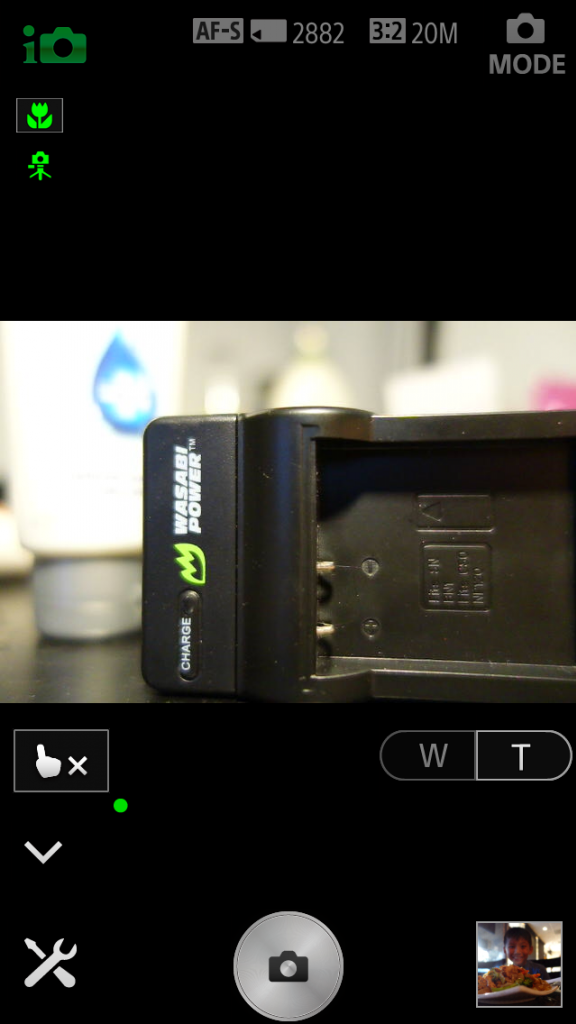 Turn the phone sideways and you see this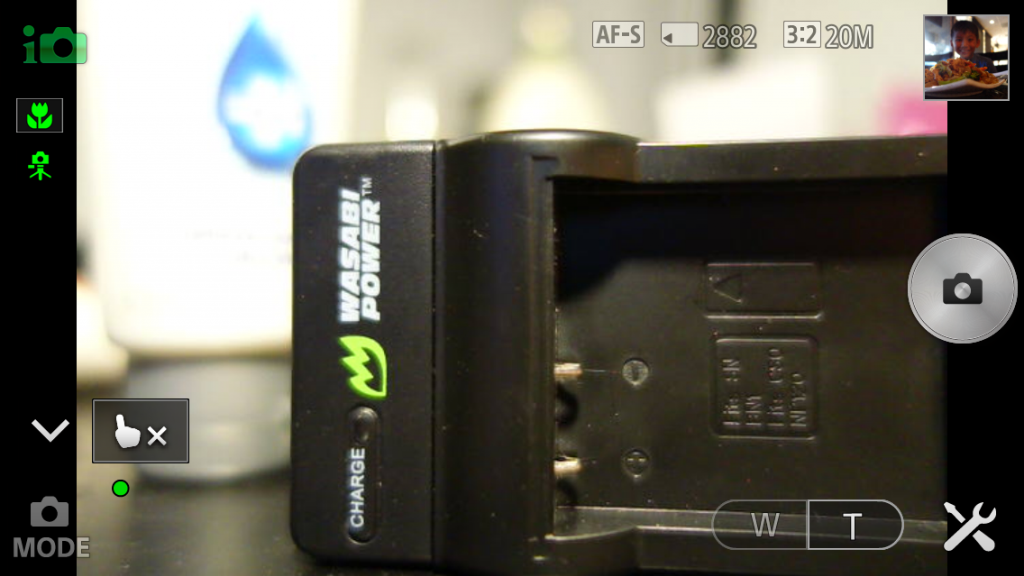 Two things you need to know about using a Wi-Fi camera. Your phone battery will drain quicker so make sure to have a battery charger available to keep shooting. I have an ANKER battery charger to get around that. I can recharge a dead iPhone 10 times before having to recharge it. Second, if you're always in a hurry to "get that shot", you'll either have to shoot blind all the time, i.e. without connecting to the network, or don't use this camera for those situations otherwise you WILL get frustrated.
Wait did I just say you can shoot pictures without using a phone attached or being connected to a network? Yep! If you like shooting blind, or if you're in a hurry, just zoom the camera wide by pressing zoom lever to W until it stops, then hit the record button on the camera lens itself and point it in the direction. The drawback of this method is you won't have a 2MP copy on your phone and you cannot view these pix until you download them to your computer. But it's quick and dirty and works in a pinch. As far as I know, this only works for stills and not videos. Even if you set the camera app to record video, the button on the QX-100 will still only activate the still capture mode and not video.
With that said, the fastest way to connect is to leave the camera on all the time and your phone will stay on that network. You only have to reopen the Sony app to start taking pix. If you power the QX-100 down, the phone will seek another available network and you'll have to reconnect to the QX-100 and that takes time. And in some cases, you might be unable to connect.
When you shoot video, it records directly on to your micro SD card. Because of that, you cannot playback your videos on your phone. You can only see it while it's recording. To play it back, you need to transfer it to a computer. When capturing stills, it records a 2MP version on the phone and a full rez 20MP version on the micro SD card.
This video shows the audio and HD video quality. Make sure to adjust the HD quality if you have the bandwidth.
Ok so after reading all this you might be tempted to purchase one! I would highly recommend doing a couple things.
1. Visit your local Sony store, but download the free Sony app first. Then go see the QX-100 and ask the sales guy to help you test it on your phone. If your store is anything like mine, the sales guys don't really know much about the floor model and you MIGHT see a LOT of lag on the display. First thing to do is change it to one of the Automatic modes or if you're in Aperture Priority or Shutter Priority, make sure the shutter is atleast 1/30 or faster and aperture is f/1.8. I initially thought maybe the display lag I read about online was going to be really bad, but it turned out someone messed up the settings on the demo model by setting the shutter speed to being really slow so it lagged like crazy. Once I fixed that, the floor model worked great, and the sales guy appreciated me showing him how to fix it, lol.
2. You can find the same Sony micro SD cards on Amazon for a fraction of that sold directly from Sony.
3. The QX-100 battery is charged by a USB cable attached to the camera. This means you cannot use it while it's being charged. So get this Wasabi charger and 2 battery packs for $20 from Amazon. Get two sets so you have 5 batteries (4 extras and the original OEM one). These batteries are a bit higher capacity than the OEM one. This will solve any battery complaints you may have!
Want to see more unprocessed pix taken with the QX-100? Check out my Flickr album for full rez pix.
https://www.flickr.com/groups/qx100/
Handheld Night Shot lit by iPhone flashlight held by my wife
Handheld Shot- f/1.8, iso 200, 1/80
Group Photos are easy because you can view what the camera sees before snapping the picture
Another Group Photo
You want the 42mm filter for the QX-100. It's held on by a magnet and works amazingly well.
Here are some example of how a circular polarizer can improve an image. This is NOT filtered.
This is taken with the circular polarizer on. You can see the sky and the trees look more rich! Even the skin tones are better.
No Filter Below
With Filter (Circular Polarizer) Below
With Filter Texture is Clearly Visible in Table
No Filter Below (Notice Distracting Reflections)
Time Lapse Photography
The QX-100 will not do time lapse photography on its own, but with the purchase of a $0.99 app from the App Store, Interval Cam will connect to the QX-100 and enable you to preset how many still shots you want to take at what interval and can generate a movie from those stills automatically for you.
Here are some fantastic Time Lapse movies taken with the QX-100 and the IntervalCam iOS app. I found this on YouTube.
Specs from Sony's Website:
Sony Website
Some specs have been updated through firmware such as the HD Video was upped from 1440x1080 to 1920x1080 through firmware updates. Also the button on the QX-100 responds to a half press to focus.
Convenience Features (details)
Image Sensor

Sensor Type

1.0 type (13.2 x 8.8 mm) "Exmor R" CMOS image sensor, aspect ratio 3:2

Number of Pixels

[Effective] Approx. 20.2 megapixels [Gross] Approx. 20.9 megapixels

Lens

Lens Type

Carl Zeiss Vario-Sonnar T*

F-number (maximum aperture)

F1.8 (W) - 4.9 (T)

Focal Length (f =)

f = 10.4-37.1 mm

35 mm Film Equivalent

Still Image: [3:2] f = 28-100 mm [4:3] f = 30-108 mm [16:9] f = 29-105 mm [1:1] f = 36-127 mm

Video: [16:9] f = 33-120 mm (SteadyShot Active Mode)

Focus Range (from front of lens)

AF approx. 5 cm (0.16') to infinity (W), approx. 55 cm (1.80') to infinity (T)

Camera

Shooting Mode

Intelligent Auto, Superior Auto, Program Auto, Aperture Priority, Video

SteadyShot

[Still Image] Optical [Video] Active Mode

Focus Mode

[Still Image] AF-S / Manual Focus [Video] AF-C / Manual Focus

Exposure Compensation

+/- 3.0 EV, 1/3 EV step

ISO Sensitivity

[Still Image] Auto (ISO 160 - 25600)

[Movie] Auto (ISO 160 - 3200 equivalent)

White Balance Mode

Auto / Daylight / Shade / Cloudy / Incandescent / Fluor (Warm White) / Fluor (Cool White) / Fluor (Day White) / Fluor (Daylight) / C.Temp.

Shutter Speed

Auto (4 - 1/2000) / Program Auto (1 - 1/2000) / Aperture Priority (8 - 1/2000)

Recording

Format

[Still Image] JPEG [Video] MP4

Image / Video Size

Still Image: [3:2] 20M (5472 x 3648) / 5M (2736 x 1824) [16:9] 17M (5472 x 3080) / 4.2M (2720 x 1528) [4:3] 18M (4864 x 3648) / 5M (2592 x 1944) [1:1] 13M (3648 x 3648) / 3.7M (1920 x 1920)

Video: MP4:12M (1440 x 1080, 30 fps)

Compatible Recording Media

Memory Stick Micro, Memory Stick Micro (Mark2), microSD Memory Card, microSDHC Memory Card, microSDXC Memory Card

Interface

Input and Output Terminal

Multi/Micro USB Terminal (USB2.0)

Yes

NFC™

Yes (One-touch remote)

Power

Battery System

NP-BN (supplied)

USB Charge/USB Power Supply

Yes (shooting, playback)

*1

Other

Compatible Smartphone OS

*2*3

iOS version: 5.0 - 7.0 / Android version: 2.3 - 4.4

Smartphone Dimensions Compatible with Smartphone Attachment

*4

Width: 54 - 75 mm / Thickness: under 13 mm

Supplied Accessories

Smartphone Attachment, Rechargeable Battery Pack NP-BN, Micro USB cable, Wrist Strap, Instruction Manual



In Conclusion:

The Retail Price is $499 but you can find it discounted right now for $450 bundled with batteries and accessories. My previous "Goto" camera was the Nikon 1 which I have a variety of lenses for. I really like the quality of it the Nikon 1, but to achieve shallow depth of field, I have to use a longer lens which limits my creative options. With a huge 1" sensor, I can achieve great depth of field effects as well as very fast and blur free photos. Although the camera can be a little quirky at times, the quality and flexibility is fantastic and it's become my "Goto" camera for everything both for personal and business use. With 5 battery packs at my disposal, I always have juice. With my Anker battery charger, my phone is always ready to charge. Be forewarned, everywhere you go, people will be asking about this camera and they will always be entertained by it.

This is a great camera if you can live with a little lag in viewing the display, and the fact you have to power up your phone, connect to WiFi, before you can take a picture. This is a great addition to your existing cameras, however you may find that you want to use this all the time and leave your bulky DSLR's or camcorders at home. Even my compact Nikon 1 mirror less cameras are feeling very weighty and getting much less usage since I've added the QX-100.

We're heading out to Yosemite in a few days, and I'm looking forward to capturing some amazing video, time-lapse sequences, and stills. Stay tuned for an update on this blog after my trip!
See Older Posts...